Gearbox accelerates data-driven growing with robots through investment
Founded in 2016 in Maasdijk (Westland), Gearbox is able to accelerate the delivery of the new generation of digital workers to the horticultural sector partly due to attracting Shawn Harris (Orange Wings) as an investor. These new employees are a Quality Inspectior, Digital Cultivation Advisor and Harvest Assistant that, through smart cameras and software with machine learning, support growers, breeders and traders in their daily work with automation, robotisation and digitisation. All these robots also generate real-time insight into the product quality and the stock in the greenhouse on the basis of high-quality data.
Investment accelerates international growth
Gearbox is growing fast and has recently moved to a larger location in Maasdijk with over 18 employees. The young company has a large workshop and experience lab here, where it engineers, produces and tests all its products. The development of this new generation of 'robot employees' is partly made possible by attracting an actively involved investor. Shawn Harris' knowledge and experience as founder and former CEO of Nature's Pride is very valuable in further developing Gearbox's product family.
I'm really excited to support the management team at Gearbox in making important strategic decisions, and to help them in growing their customer base in- and outside of the Netherlands. Their accuracy, capability to deliver what they promise, and early proven track record is impressive. Helping the growers manage with data is a game changer. It's cool to hear how the early adapters like to check this data every day.  It gives them valuable information in order to make decisions that can improve their quality and increase production. All these Gearbox options make growers' daily tasks easier with much more accurate information and will support them to have lower costs and better results. – Shawn Harris (Orange Wings)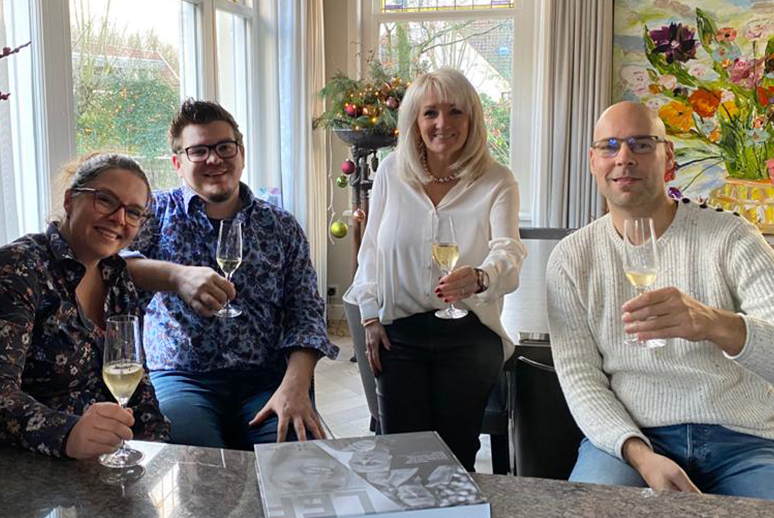 Management of Gearbox with investor Shawn Harris (Orange Wings). From left to right. Simone Keijzer, Johan Kreeft, Shawn Harris and Julian de Wit
"The investment from Orange Wings ensures that Gearbox can continue to grow into the international market. This enables us to deliver the data-driven robots for the Agriculture and Food sector on a large scale in a shorter period of time", according to Gearbox founders Simone Keijzer and Johan Kreeft. Hillenraad Partners supported Gearbox in finding the right match: "Gearbox has accomplished an impressive amount in four years, but also realised that the market is asking for even more speed. A great step in the growth strategy of a promising company, driven by passion for High Tech and with roots in Westland, where the whole team is fully convinced that the Netherlands will not lose its pioneering role in the horticultural sector", says Martien Penning (Hillenraad Partners).
Digital inspectors and cultivation assistants convert images into data
From its headquarters in Maasdijk, Gearbox supplies the GearVision, a digital quality inspector that carries out daily consistent inspections of tomatoes, cucumbers, peppers and onions, among other things. In addition, the digital cultivation assistant, GearSense, has been available since 2020. It supports cultivation advisers and growers in monitoring and assessing the crop in the greenhouse. The use of cameras with Machine Learning can be used to determine the ripeness of flowers and the growth stages they are in. This allows growers to better predict the harvest, because they always know how the crop is doing in the greenhouse. The use of GearSense in tomato cultivation means that the automated digital counts and colour registration provide reliable, digital input for harvest forecasts and management reports.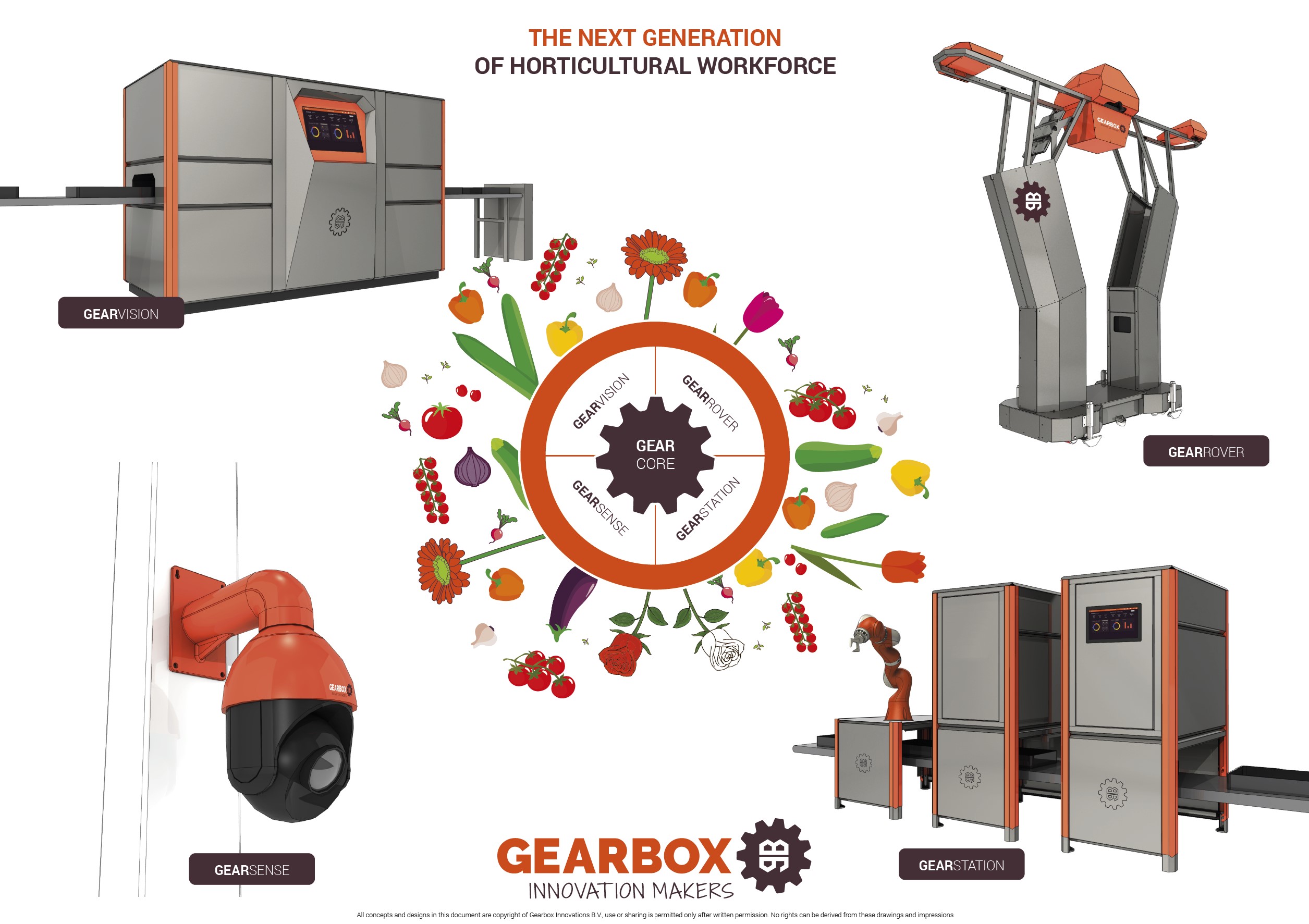 Robots as colleagues
The next 'employee' in Gearbox's family of products will be the GearRover. This is a harvest assistant that supports growers in scouting, assessing and harvesting both vegetables and flowers. The driving robot will be introduced soon and uses the same smart technology as the GearSense, allowing this new colleague to easily assess tomatoes or roses for ripeness. With the GearRover growers can easily digitally monitor the quality and growth rate of the crop with clear reports. Work is also already underway on the next team member: the harvesting robot for vine tomatoes will become available in 2022.
Questions about this press release or interested in Gearbox robots? Visit the website www.gearboxinnovations.com or contact Simone for more information via:
https://gearboxinnovations.com/wp-content/uploads/2021/01/GearboxInvestmentOrangeWings2021.jpg
518
774
Simone_GIM
https://gearboxinnovations.com/wp-content/uploads/2021/09/GearboxLogo2021_FullColor-1030x310.png
Simone_GIM
2021-01-28 10:30:59
2021-01-28 14:52:30
Gearbox accelerates data-driven growing with robots through investment