High-tech Quality Control with GearStation Inspector
Within a week, the newest version of the GearStation will be launched by Gearbox at the Fruit Logistica in Berlin. Gearbox develops, designs and builds advanced AI and data driven machinery & equipment to enable the food and agriculture to achieve the highest possible degree of control over their product quality. The integrated solutions based on vision, AI and robotics, consolidated in their data driven cloud platform, makes Gearbox a data driven technology company. We create insights by real time growth monitoring and growth forecast, secure quality by post-harvest inspection, reduce risk and save operational costs to create the highest level of control and consistency for your clients.
Based on the years of experience with GearVision's standalone digital phenotyping applications and quality inspection for breeders and traders, and the previously developed version of the GearStation for circular packaging, Gearbox will exhibit the new GearStation Inspector in Berlin.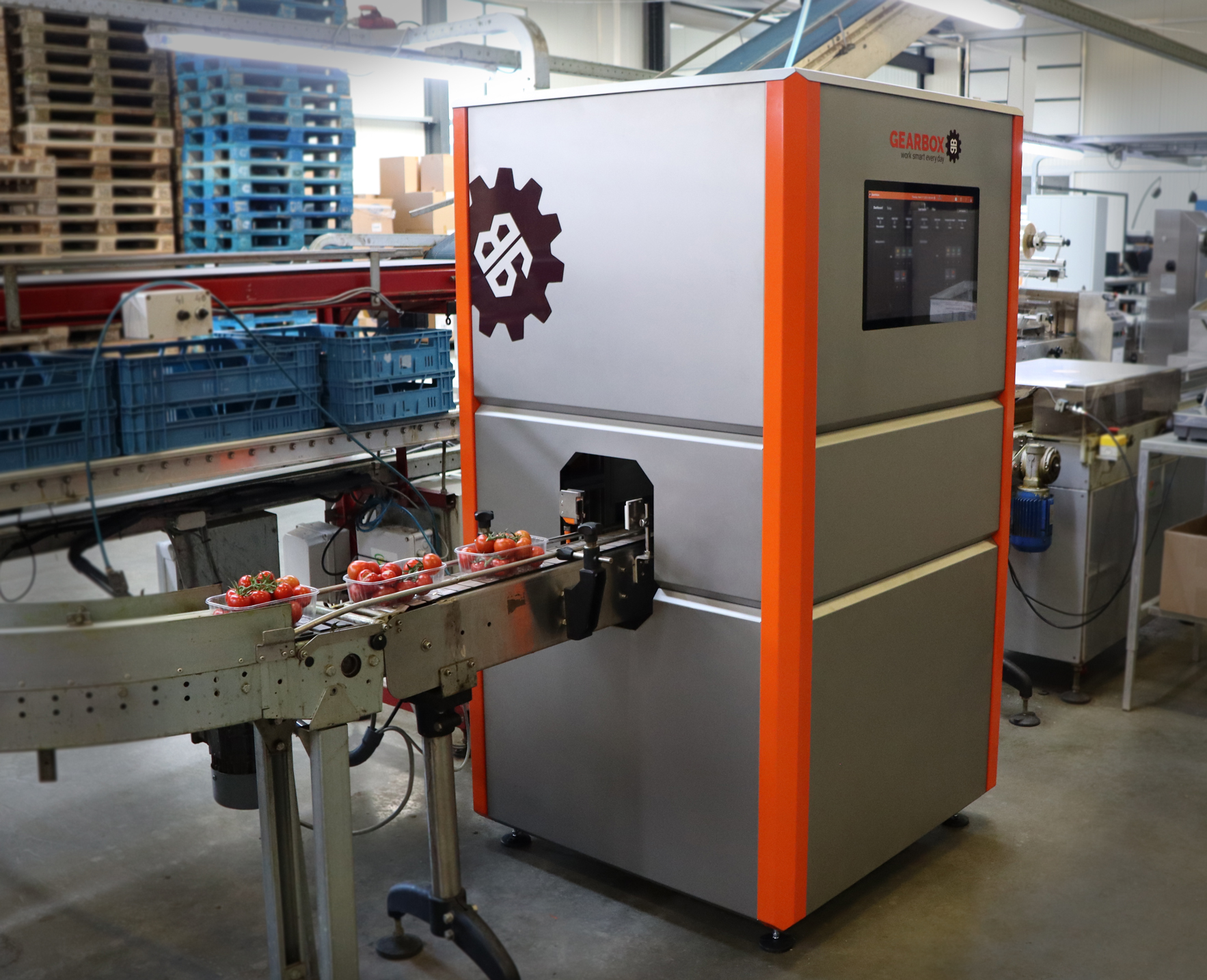 GearStation Inspector
Using artificial intelligence and the latest vision technologies, GearStation manages the inline quality control and grading of fruit, vegetables and flowers in punnets, as single units or in crates. Now, quality control requires the mental capacity and expertise of your employees during processing. Besides the rising labor scarcity, a high staff turnover is also a threat to safeguard quality. Despite everyone's best efforts, mistakes can still occur daily in packaging fruits and vegetables. With this in mind, we developed GearStation. One smart workstation, with various applications in quality inspection and robotization; 24/7 accurate and consistent quality checks of your organic product in punnets, cardboard boxes and reusable crates.
In practice, this means that from now on it is possible to do a complete quality check on all the punnets that are on their way to a flow pack machine but also an objective measurement of the tomato cardboard boxes which arrives in the packing shed, straight from the greenhouse. With the GearStation Inspector, the continues need of a QC-employee around the pack line will be avoided because all finished goods are checked automatically on the same traits as the harvest and packing staff have been instructed. Examples of detection are damage, color and shape deviation, mold and decay. Instead of the sample-based checks, a 100% final check now takes place.
By setting quality profiles, the severity can be adjusted per customer. This ensures the delivery, reduces the risk of claims and saves on unnecessary rework. In addition, it provides insights into the performance per harvest and packing employee, both in terms of speed and quality. All inspections are shown real-time in a user friendly dashboard and insightful reports from the Gearbox Cloud environment. With this high-throughput quality inspection, the GearStation Inspector saves right from the start, resulting in a short return on investment.
Circular packaging inspection
A similar setup with different purpose can be found in the GearStation Crate Inspector; accurate and consistent quality check of empty reusable transport items for organic rest materials, stickers, damage, dirt, etc. Inspection is possible for vegetable folding trays and fruit crates in various colors and sizes, even flower buckets belong to the possibilities.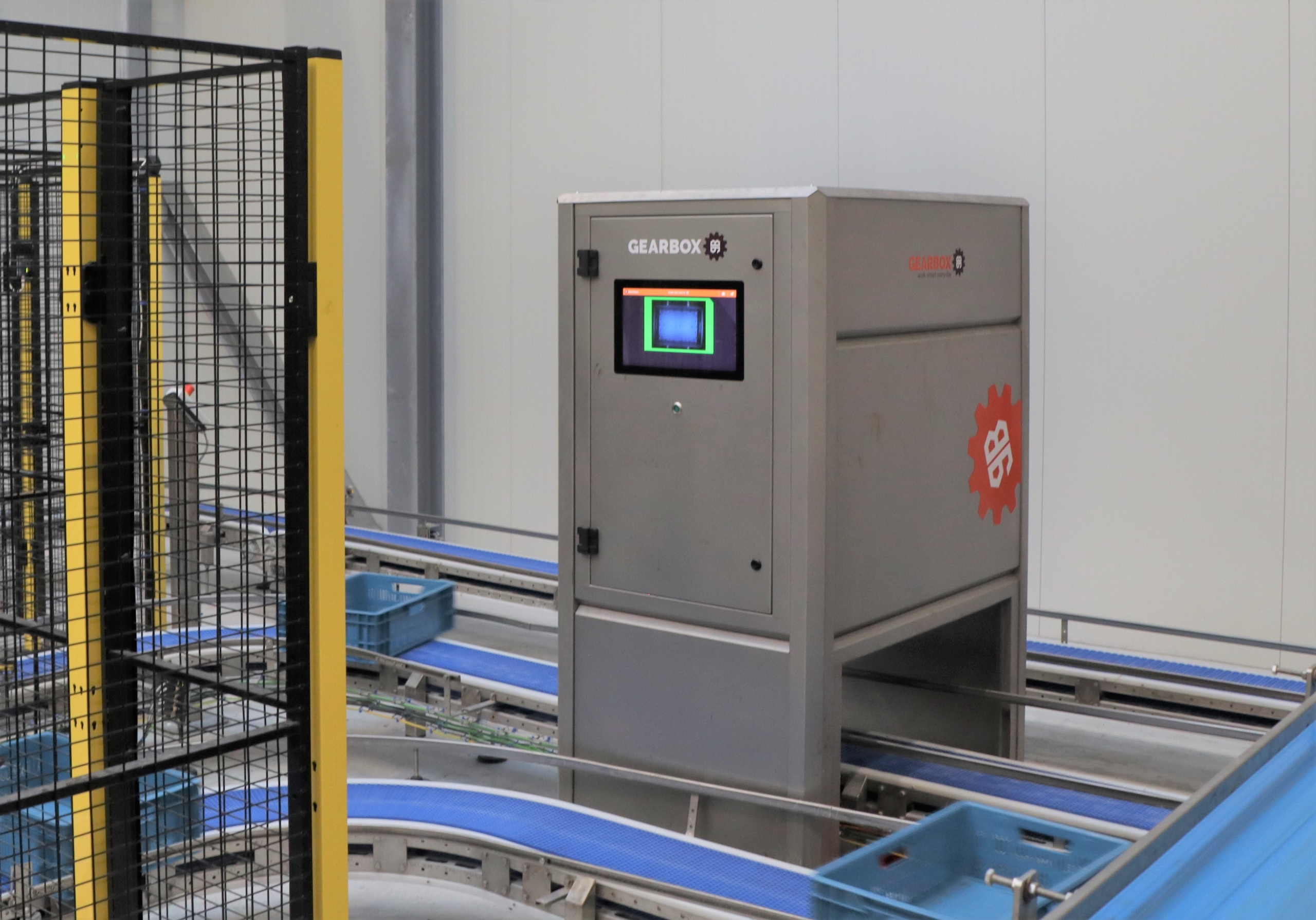 The GearStation Crate Inspector is already on the market for a few years and frequently used applications are behind the crate washer, in a sorting line and on arrival at the nursery before entering the greenhouse. The data from the GearStation Crate Inspector gives a reliable insight into the quality of the circular packaging pool and by rejecting the broken and dirty ones, a tidy pool is created. This reduces the risk of spreading viruses and broken crates causing product damage and malfunctions in other automation systems. With the deployment of the Crate Inspector, we prevent that. All inspections are shown real-time in a user friendly dashboard and insightful reports from the Gearbox Cloud environment.
Gearbox will be exhibiting at Fruit Logistica in Berlin. You can find them in hall 4.1, stand C06 from April 5 until 7.
For more information:
Gearbox Innovations B.V.
Ab van Staalduinen
Nollaantje 42c
2676 BW Maasdijk
+31 174 295 714

www.gearboxinnovations.com
https://gearboxinnovations.com/wp-content/uploads/2022/04/GearboxGearStationPreflowpack2022.jpg
1434
1766
Simone_GIM
https://gearboxinnovations.com/wp-content/uploads/2021/09/GearboxLogo2021_FullColor-1030x310.png
Simone_GIM
2022-04-01 13:20:03
2022-04-01 14:13:49
High-tech Quality Control with GearStation Inspector