Gearbox wins theme prize for Robotisation and Data-Driven Horticulture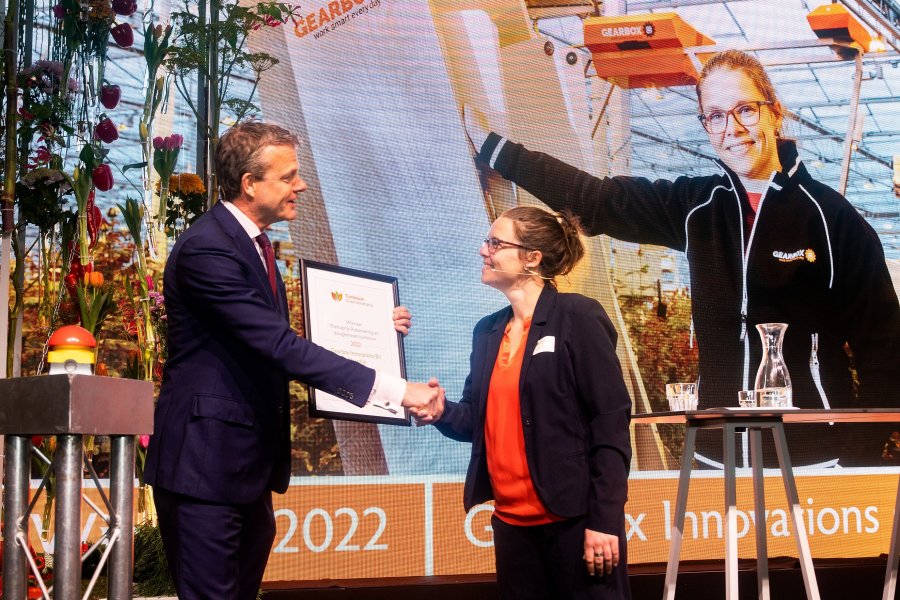 Gearbox wins theme prize for Robotisation and Data-Driven Horticulture from Tuinbouwondernemersprijs! At the Floriade Gearbox received this honorfull reward from Guido Landheer from the The Ministry of Agriculture, Nature and Food Quality. A fantastic acknowledgement for the whole Gearbox team and a good motivation for continuing the realization of the next generation of horticultural workforce!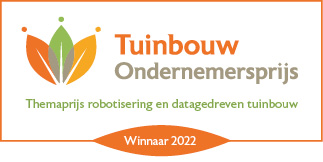 JURY RAPPORT
Gearbox Innovations invents, designs and produces smart products in the field of robotics and automation, self-learning software and vision solutions. The technologies assess and report in real time on the quality and growth of the plants in the greenhouse, in order to optimise the cultivation and packing process, save costs and improve product quality. Gearbox was found 5 years ago in a garage, and now works on the digitisation and robotisation of horticulture with 30 full-time employees. All the products thereby reinforce one another, with the end goal of being able to capture the product and crop consistently in algorithms throughout the supply chain from breeder to the supermarket distribution centre, and thereby be able to provide important data and advice.
The jury said:
Gearbox in the Westland region has developed over the past 5 years from an R&D consultancy for horticulture into an impressive scale-up with a portfolio of products from the greenhouse to the shed that also all make use of interchangeable modules. This means they are well-positioned to develop new products in partnership with the end users. A good example of this is the GearRover, a harvest assistant that indicates which flowers and fruit are ripe for harvesting. Gearbox is a master of agile product development, whereby the company always works with the customer to identify what adds value.
About innovation GearRover:
The GearRover is a unique innovation that can be used in particular to train new employees in the greenhouse, while they are almost immediately productive. In addition, GearRover offers the possibility to determine the harvest volumes (how many harvestable products and at what stage are they), in addition to harvesting assistance, even if this has not yet been fully developed. Gearbox has a number of close collaborations with end users, so that the product fits in well with the user's wishes.
https://gearboxinnovations.com/wp-content/uploads/2022/04/20220421KL-1268Gearbox.jpg
600
900
Simone_GIM
https://gearboxinnovations.com/wp-content/uploads/2021/09/GearboxLogo2021_FullColor-1030x310.png
Simone_GIM
2022-04-21 20:53:55
2022-04-21 21:49:27
Gearbox wins theme prize for Robotisation and Data-Driven Horticulture